It's not just us excited about Smart Energy
Metropolis was pleased to attend the 2019 Smart Energy Conference
Metropolis was pleased to attend the 2019 Smart Energy Conference, hosted at the Sydney Convention Centre by the Smart Energy Council, Australia's premier solar, storage and smart energy conference and exhibition.
We caught up with some old friends and made many new ones as we examined an exciting array of generation and storage products available for home and commercial electricity consumers.
About 6,000 people attended the two day conference, making it one of the most successful renewables forums in the country.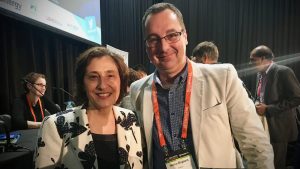 Speakers included the Hon. Lily D'Ambrosio, Victorian Minister for Energy, Environment and Climate Change, former leader of the Liberal Party John Hewson, financial journalist and self described angry businessman Alan Kohler, Smart Energy Council CEO John Grimes, our good friend from AEMO Violette Mouchaileh, and senior energy transition advisor to the Energy Transition Hub at Melbourne University Simon Holmes à Court.
Discussions at the conference ranged from State Government renewables programs and targets, climate change and pending power plant closures, to virtual power plants, electric vehicles and storage technologies.
There is enormous passion for smart energy and we were impressed that the biggest innovations are coming from the smallest companies.
One thing is clear - Australia's energy future is in very good hands.